If you have questions,
we have answers.
While people make plans for all sorts of things, going broke isn't usually one of them. But through no fault of their own some people find themselves facing the prospect of bankruptcy or liquidation. And whether they're individuals or business owners, it can be a confronting, frightening and incredibly stressful process.
There was a time when insolvency practitioners didn't seem to care. Instead of being empathic, these old-school practitioners would be aggressive, doing their job with complete disregard for any collateral damage they caused.
Fortunately, times have changed. The insolvency profession has entered a new era (what we like to call Insolvency 2.0). And Rapsey Griffiths is leading the way.
As a modern and progressive insolvency and advisory firm, we develop strategies to help companies and individuals recover from financial distress. While we always look for a turnaround solution, if that option isn't available we will act positively and create strategies to mitigate losses to all stakeholders.
Service is our key philosophy
We will guide your client through the stressful process, and try and make the experience as stress free for them as possible. It's our promise to you, and why we're different to the old-school insolvency practitioners.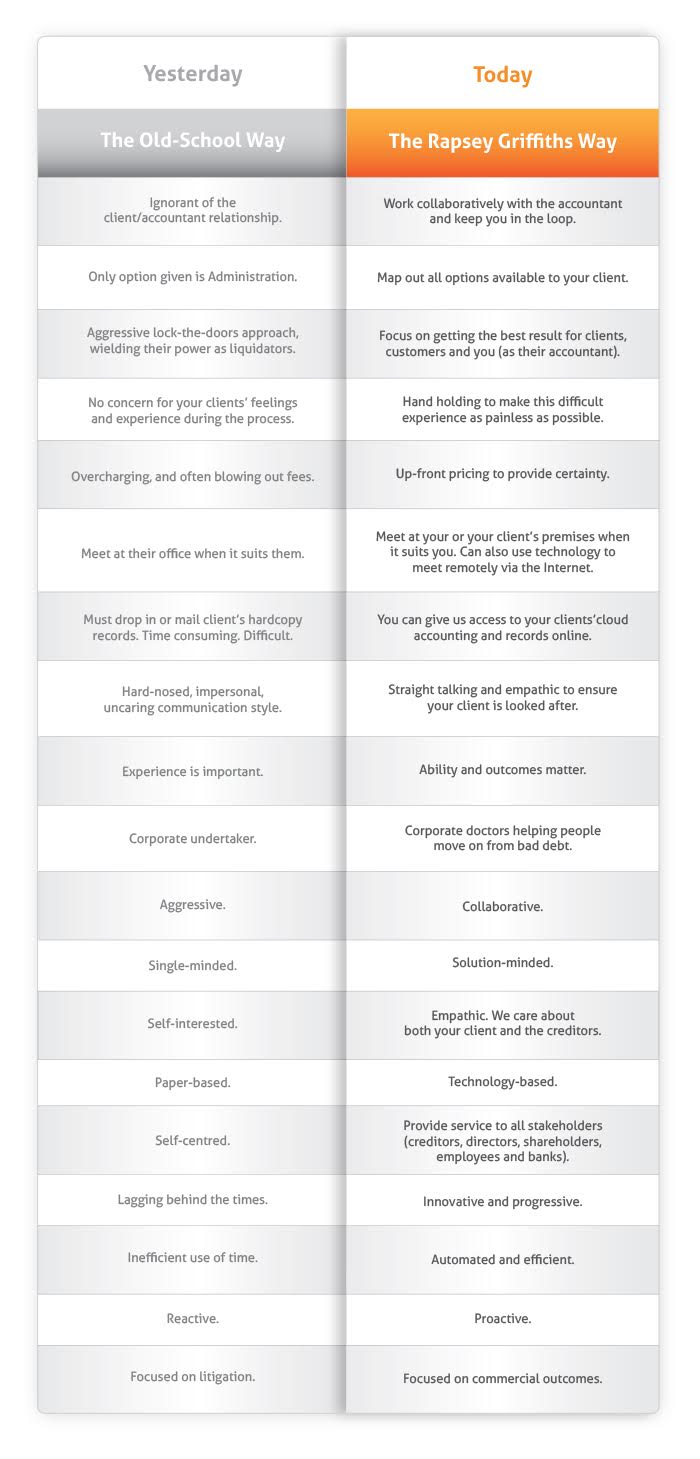 When your client is facing financial difficulty, you naturally want to find the best solution for them. But to do that you need straightforward and honest advice from someone you can trust.
This video explains how Rapsey Griffiths can give you that advice, along with a range of options to present to your client. (We can also talk to them directly if you'd prefer.)
Don't jeopardise the strong relationship you have with your clients. Contact Rapsey Griffiths today and find out how we can help you help them.